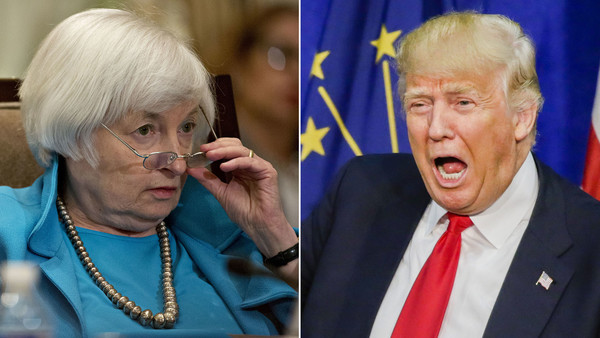 ©Bloomberg/EPA
Donald Trump would probably replace Janet Yellen as Federal Reserve chair if he wins the presidential election, the presumptive Republican nominee said on Thursday.
The property developer turned politician told CNBC that Ms Yellen is "not a Republican" and that it would be "appropriate" to put someone new in the position when her four-year term expires in February 2018.
Nevertheless, Mr Trump also said that he agreed with Ms Yellen's policy of keeping short-term interest rates low, saying that rate increases would push up the dollar and damage America's competitive position with China, as well as making it harder to service US debt.
"I have nothing against Janet Yellen whatsoever; I think she has been doing her job," said Mr Trump, describing her as "very capable". However, he added: "She is not a Republican . . . when her time is up I would most likely replace her because of the fact that I think it would be appropriate."
Previous presidents have been willing to keep Fed chairmen in post regardless of their political leanings. Despite his Republican affiliation, Ben Bernanke clinched a second term in 2010 under President Barack Obama. Alan Greenspan was similarly appointed to a third term under Bill Clinton in the 1990s.
Mr Trump's supportive comments about the Fed's easy monetary policy were a reversal from his position last year, when he chastised Ms Yellen for failing to raise rates, saying she was leaving them low to help Mr Obama's administration.
"I love the concept of a strong dollar," Mr Trump said on Thursday. "But when you look at the havoc that a strong dollar causes . . . I can tell you, I have friends in China: all they do is watch the dollar. They love to see it go up."
Higher interest rates would also make it tougher for America to service its debt, Mr Trump added. He described himself as the "king of debt", but said that it had to be handled with care. "You are talking about something that is very, very fragile," he said.
Copyright The Financial Times Limited 2016. You may share using our article tools.
Please don't cut articles from FT.com and redistribute by email or post to the web.