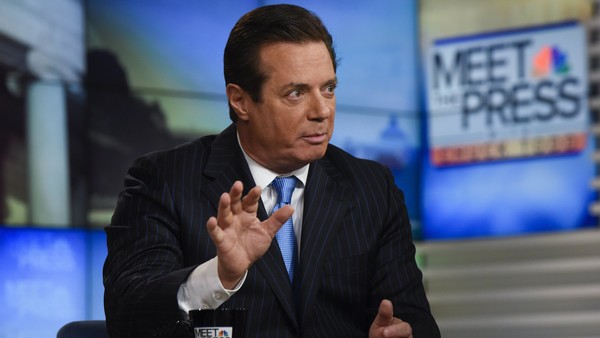 Paul Manafort has resigned as Donald Trump's presidential campaign chairman, in a move that comes just days after the Republican candidate had undertaken the second major shake-up of this operation in as many months.
"This morning Paul Manafort offered, and I accepted, his resignation," Mr Trump said in a statement. "I am very appreciative for his great work in helping to get us where we are today, and in particular his work guiding us through the delegate and convention process. Paul is a true professional and I wish him the greatest success."
The departure of Mr Manafort, a Republican lobbyist who has worked on campaigns as far back as Gerald Ford's in 1976, comes days after Mr Trump promoted Kellyanne Conway, a Republican pollster, to campaign manager, and hired Stephen Bannon, executive chairman of Breitbart News, a tabloid-style conservative news site, as chief executive.
Mr Manafort had in recent days come under increasing scrutiny over his work as a lobbyist in Ukraine where he advised the Party of Regions led by the former pro-Russia president Viktor Yanukovich. Earlier this week, Ukrainian authorities confirmed that Mr Manafort was named in a document as being allocated $ 12.7m in off-book payments allegedly made by the Ukrainian political party. Mr Manafort had strongly denied receiving any such payments.
That questions about his consultancy work in Ukraine came on the heels of criticism that the Trump campaign had interfered with the policy platform that the Republican party unveiled at its convention in Cleveland by removing language calling for the provision of arms to anti-Russian rebels in Ukraine. Mr Trump has also made controversial remarks about Nato that many experts have said played into the hands of Vladimir Putin, the Russian president.
It was unclear whether his resignation was related to the Ukrainian issue or the reshuffle at the top of the campaign team which appeared to reduce the role of Mr Manafort. Following the announcement of the revamp earlier this week, Mr Manafort had told the Financial Times that he was "staying" with the campaign despite the restructuring.
The turmoil in the campaign comes as Mr Trump attempts to stem the recent rapid decline in his poll numbers, which have reignited concerns that his divisive rhetoric and abrasive approach would cost the Republican party any chances of taking the White House and raise the prospect of the GOP losing their majorities in one or both houses of Congress.
Hillary Clinton has led Mr Trump in more than 20 successive polls in recent weeks, and maintains an average lead of 6 points, according to Real Clear Politics. In one national poll, she was as many as 15 points ahead, and she is also carving out a bigger lead in the crucial swing states of Ohio and Pennsylvania.
Mr Trump has slumped in the polls since the Democratic convention in Philadelphia largely because of self-inflicted wounds that have underscored his apparent inability to run a more disciplined campaign and act more presidential. He has come under particularly harsh criticism from Democrats and many Republicans for denigrating the Muslim parents of a highly-respected US army captain who died while serving in Iraq. He also shocked some Republican establishment members by making comments interpreted by many that gun-rights advocates might shoot Mrs Clinton to prevent her from winning.
Mr Trump brought Mr Manafort into his campaign earlier this year to build bridges with the Republican establishment when it appeared that he might face a contested convention in Cleveland. Mr Manafort repeatedly clashed with Corey Lewandowski, the abrasive campaign manager, who was eventually ousted when Mr Manafort and the Trump children convinced the candidate that he needed to adopt a less confrontational approach.
Twitter: @dimi
Copyright The Financial Times Limited 2016. You may share using our article tools.
Please don't cut articles from FT.com and redistribute by email or post to the web.