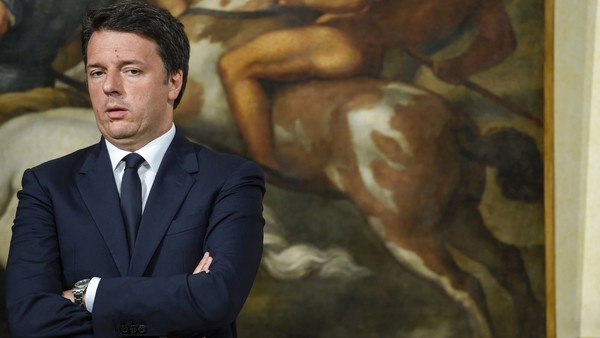 ©AFP
Italy's economic recovery unexpectedly ground to a halt in the second quarter, data released last week showed, dashing economists' expectations of modest growth and dealing a blow to Prime Minister Matteo Renzi ahead of a crucial referendum on constitutional reform set for November.
Italy's banking troubles, political uncertainty at home due to waning support for Mr Renzi, and mounting geopolitical risks — including the Brexit vote — all presumably played a role in the poor performance. Last Friday's data, which showed flat output over the second quarter, also revealed that domestic demand provided a negative contribution to output while external demand made a positive contribution.
But what else do we know about what went wrong between April and June this year — and what are the implications for the rest of 2016 and beyond? Here is a deeper dive into other data for the second quarter, which helps make more sense of Italy's economic struggles.
Industrial inaction
One of the biggest warning signs for Italy's GDP growth came when Istat reported on August 5 that industrial production — or factory activity — fell by 0.4 per cent in the second quarter, compared with the previous three months.
The decline was driven by a 14 per cent drop in extraction activities — but goods manufacturing suffered as well, with machinery and equipment, motor vehicles and textiles all down slightly over the quarter.
The slump in industrial production was accompanied by a gradual decline in Italy's manufacturing PMI, which in July hit 51.2, its lowest level in a year and a half. Since Italy is a manufacturing-heavy economy, such a dark picture suggests companies will be reluctant to pursue new investments in the second half of the year. 
Consumer doubts
After a bruising triple-dip recession, Italians had gradually returned to the shops, bringing consumption back into positive territory. But over the past few months, they appear to have retreated again.
Consumer confidence has been in a steady decline all year, falling from 118.5 in January to 111.3 in the latest data for July. In June, it dipped as low as 110.2. Meanwhile, the value of retail sales dropped by 0.3 per cent between March and May compared with the previous three months, as food sales suffered more than sales of other goods.
"The recovery in private consumption, which — unusually by Italian standards — was the initial engine of growth at the outset of the recovery, risks running out of steam," warned Lorenzo Codogno, an economist at LC Macro Advisors in London. 
Trade to safety
If the Italian economy managed to stay afloat in the second quarter, it is probably due to international trade, which has traditionally been one of its strong suits. During the second quarter, exports grew by 2.4 per cent on a seasonally adjusted basis compared with the first quarter, driven by a 15.2 per cent increase for the energy sector.
Exports outside the EU grew faster than exports to other members of the single market. Nonetheless, the slowdown in emerging markets has had an impact — compared with the first six months of last year, exports outside the EU fell by 3.9 per cent over the same period.
Job relief
Amid all the concern about the slowdown in the Italian economy, there is one encouraging development — the number of employed Italians has risen.
During the second quarter, employment rose by 145,000, a 0.6 per cent increase compared with the first quarter. Crucially, there were 181,000 fewer "inactive" Italians, meaning that more people decided to start looking for work again over the quarter, even if it meant they were classified as unemployed. 
The unemployment rate also ticked up to 11.6 per cent in June however. Overall, the number of unemployed Italians rose in the second quarter — but by just 7,000 people, or 0.2 per cent.
Hazy future
In April, the Italian government said it was expecting growth of 1.2 per cent this year — but that now seems out of reach. Most economists are now predicting growth to come in closer to 0.8 per cent, in line with 2015, dashing hopes of an acceleration in the recovery. Beating 1 per cent in 2017 could be challenging as well, meaning Mr Renzi's economic headache could be here to stay.
Copyright The Financial Times Limited 2016. You may share using our article tools.
Please don't cut articles from FT.com and redistribute by email or post to the web.