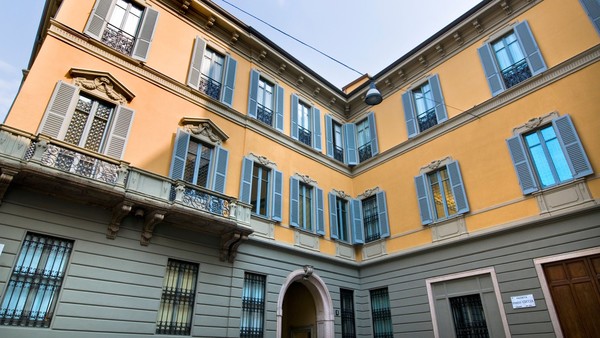 ©Alamy
When I worked in Milan in the 1990s, an executive from investment bank Mediobanca would periodically take me for lunch at a smart and very private members' club, on condition I never identified or quoted him.
He was my tiny opening into the salotto buono , the "fine drawing room" of intertwined Italian corporate and financial interests, over which the investment bank and its publicity-phobic founder Enrico Cuccia had presided since the second world war. Such was the mystique of the bank that after Cuccia died in 2000, aged 92, two men stole his corpse and tried to extort a ransom from his family.
People have drawn down the blinds and thrown the dust-sheets over the salotto buono many times. One critic I quoted called it "obsolete" even 20 years ago. But the takeover of RCS Mediagroup — owner of news organisation Corriere della Sera — is the final salting of the fine drawing room's rubble.
When Urbano Cairo, a publisher of gossip magazines, last week won a bid battle against an establishment line-up, orchestrated by Mediobanca, one person commented to the Financial Times — in mild astonishment — that Mr Cairo did "not seem to care about political or financial power as much as having a competitive product on the mainstream media market".
The Italian system was sustained by complex holding company structures and cross-shareholdings that disdained minority shareholders and deterred bidders. It was summarised as "capitalism without capital".
The network had a purpose when first established: to insulate family-run companies from the predations of bidders and the pressure of public markets. Mediobanca now has a media relations team and an artful corporate video portraying itself as the rebuilder of Italian business and finance. The propaganda is partly correct. The network gave vital postwar stability to entrepreneurs such as the Agnellis of Fiat and the Pirellis of tyre fame. But stability also led to entrenchment and stagnation — a warning to any business looking to consolidate its power using complex alliances or protectionist policies, from the US to Japan.
Such temptingly comfortable accords can easily foster unhealthy introspection. They deter competition and ossify outmoded leaders and leadership styles. The impact on managers trying to work within such complex and incestuous systems can outlast the demolition of the structure itself. The legacy remains in some Italian companies in the form of top-down communication, rigid hierarchies, promotion of the same types of people and attitudes, and a focus on process rather than results.
Andrea Colli, a business historian at Milan's Bocconi university, says such systems are "a deviation from the good side of family capitalism: they leave the family in charge even when logic would require public share ownership or takeover". The contrast is with Italy's highly specialised, medium-sized companies, also family-owned, which flourished as bigger peers petrified. Those that have survived recession and global competition are open, entrepreneurial and international, where their older counterparts are closed, traditional and often domestically focused.
The risk that close business relationships turn rotten is not unique to Italy. Japan had its close-knit keiretsu . While Mr Cairo was breezing through the ruins of the salotto buono, Greece was trying to untie the knotty governance of its financial sector. Last week saw the resignation of Michalis Sallas, chairman of Piraeus Bank, and one beneficiary of the system known as diaploki — the "entanglement" between bankers, government and big business.
Despite efforts to unravel boardroom relationships and reform governance, the US and UK still sometimes swing too far towards corporate cosiness. As the new UK government toys with an industrial strategy, it must avoid creating barriers to takeovers and allowing bad habits to fester inside the palisade. Even in Silicon Valley, where open competition is a cult, the breeze off San Francisco bay sometimes blows in the whiff of unsanitary behaviour: witness the agreements that sprang up a few years ago between leading technology companies to avoid poaching each other's engineers.
Obsession with preserving power pollutes such arrangements more often than it energises them. Mediobanca itself started dismantling the salotto in 2013, when the bank heralded its exit from shareholder pacts in the country's largest companies. A bit like Mr Cairo, Cuccia's heirs recognised they would pay a high price if they put political and financial power ahead of building a competitive product and turning a decent profit. New ways of embedding corporate power may spring up, even as globalisation and governance kill off existing arrangements. Only vigilance will ensure they stay buried.
Twitter: @andrewtghill
Copyright The Financial Times Limited 2016. You may share using our article tools.
Please don't cut articles from FT.com and redistribute by email or post to the web.