Even those with chart literacy can struggle to present complex information to non-expert audiences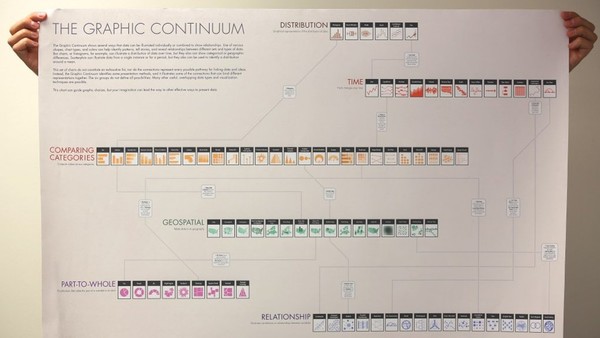 The world today is full of graphics as well as words. Charts, maps and diagrams are ubiquitous, from social media to the boardroom. This makes an ability to interpret and critique them an important part of modern citizenship. So when do we acquire chart literacy? There is plenty of evidence that many people never do.
Analysis from Pew Research Center suggests that, overall, only 63 per cent of American adults can correctly interpret a scatter plot, a relatively common type of chart for showing the relationship between two variables. The figure was higher (79 per cent) for college graduates, but only half of those with a high school education or less could read the chart correctly.
So it may be tempting to exclude charts such as scatter plots from the common vocabulary of newspapers, business reports and presentations — after all, would we regularly use a word that only two in three people understand? But the truth is such charts can succinctly illustrate complex stories in a way words alone cannot. For example, this scatter plot relating to the referendum on EU membership, by John Burn-Murdoch, is the top-performing tweet of all 24,000 published by the Financial Times this year.
As the Pew research suggests, education is important. In most countries, while students of particular subjects — for example, economics, mathematics or science — may spend time developing chart-making and chart-reading skills, there is no educational strategy for ensuring everyone does.
Even many of those who develop chart literacy suffer an inverse problem: most of the professional statisticians and economists I have worked with have never received any formal academic training on how to present complex information to non-expert audiences. Entire organisations can suffer from this two-way skills gap: researchers and policy analysts often find it difficult to communicate effectively with leaders, even if they are in acute need of support.
Jon Schwabish is one person who appreciates more than most how hard it is to bring together the data-savvy and the chart-blind. As a career economist (he has a bachelors degree, masters and PhD in Economics), Mr Schwabish was working at the Congressional Budget Office in Washington in 2010 when he attended a session by the guru of information graphics Edward Tufte. Inspired by the workshop, Mr Schwabish says he saw an opportunity to extend his role at CBO as technical reviewer of research documents into broader areas of presentation and communication.
"The quality of the research work in the CBO was super high. But, as an arbiter for Congress, it didn't seem right that we were not getting the same level of attention for this work [as other DC-based think-tanks]," Mr Schwabish says. So he started to work on improving the presentation of CBO analysis.
Douglas Elmendorf, director of CBO at the time, was "very supportive", Mr Schwabish says, and the work acquired momentum. The impact of transforming technical 70-page documents into shorter, focused, visually led pieces was remarkable, even resulting in infographics being used in Congress during budget debates.
To address the missing link in chart education, Mr Schwabish has worked with designer Severino Ribecca to produce the Graphic Continuum. He describes it as a "thought starter" for developing ideas that result in better charts: "It's an answer to the common question 'what graph should I make with these data?'". By introducing a much wider range of charts than many people are familiar with (nearly 90), the Graphic Continuum also helps to guard against xenographphobia, a term used by the journalist Maarten Lambrechts to describe a fear of unusual graphics.
In fact, the Graphic Continuum is an educational resource for both chart creator and chart reader. The charts are organised into six basic categories: Distribution, Time, Comparing Categories, Geospatial, Part-to-Whole and Relationships. Understanding these distinctions is the starting point. The broad range of chart types within each category then expands the dictionary, allowing for nuances in design and understanding.
As with all taxonomies, there is a risk that the Graphic Continuum presents an overly simplified and prescriptive view of chart design and usage: by Mr Schwabish's own admission, it "does not include every type of graphic, nor does it display every link between visualisations". But that misses the point. Its broader power lies in introducing the concept that there is a grammar to the design and use of charts that everyone can learn, just as there is with words, or indeed music: composers know that to produce good music, you'll need to break musical scales. But you still start by learning those scales.
At the Financial Times, we have developed a learning resource inspired by the Graphic Continuum. The FT Visual Vocabulary is at the core of a newsroom-wide training session aimed at improving chart literacy. This is not an attempt to teach everyone how to make charts, but how to recognise the opportunities to use them effectively alongside words.
Meanwhile, for Mr Schwabish, the success of the Graphic Continuum generated a "logical pivot" into more general presentation skills for researchers. Having left CBO, he has works at the Urban Institute, a non-profit research institution in Washington, DC, and has set up a data visualisation and presentation skills company, PolicyViz. He has also written a book, Better Presentations: A Guide for Scholars, Researchers and Wonks , to be published in November.
Amid talk of the "post-truth" era, he finds it "terribly depressing and maddening" to see science and evidence being brushed aside on a regular basis. The solution? Maybe a fresh look at the school curriculum: "Do people really need to learn calculus? Maybe not, but everybody needs to be able to open a newspaper and understand a margin of error."
According to Mr Schwabish, "emotions trumping facts may be just human nature": the popularity of the FT Brexit scatter plot might be a case of a chart striking a chord with readers at an emotional time. But that should not discourage us from striving to introduce graphics, statistics and probability to people much earlier in their education.
Copyright The Financial Times Limited 2016. You may share using our article tools.
Please don't cut articles from FT.com and redistribute by email or post to the web.